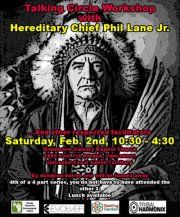 10:30am - 4:30pm
Saturday February 2 2013
Venue: Grandview Calvary Baptist Church
Address: 1803 1 Ave E Vancouver, BC (1 block East of Commercial Dr. / #20 Bus)
Cost: Free / by donation
Fourth and final Talking Circle as facilitated by Chief Phil Lane Jr.. You do not have to have attended the other workshops.
Focus: How can we move forward with the positive steps we need to take to uphold the idle No More and other movements ? What clear actions of change do we need? What are some of the unprecented unified actions we can take to ensure the grassroots can benefit in a kinder, sharing world?
Please come and learn about facilitating Talking Circles and using Principles of Consultation as tools for principle-centred community building and unified action, facilitated by our Brother Phil Lane Jr., Ihanktonwan Dakota and Chickasaw Nations, and other respected Aboriginal Talking Circle Facilitators.
The purpose of Talking Circles and Principles of Consultation is to create a safe environment for all people to share their points of view and experiences with others. This principle-centered process helps everyone gain a sense of trust in each other, which is essential for building the cohesive circles that make up powerful community-based movements.
Talking Circles ensures people are respectful of one another's point of view, the shared time they take up and serve to allow non-interrupted talk and respectful consultation to proceed. A key result is that everyone's point of view gets heard in a respectful manner. This process also supports communities to transcend abusive or disruptive behaviour. For more information on Talking Circles and Principles of Consultation see http://www.fwii.net/profiles/blogs/guidelines-for-talking-healing-and-sharing-circles-and-principles.
This particular circle will be focussing on action oriented movement against Kinder Morgan.
Share on Facebook at
https://www.facebook.com/events/521235471234339/
read more...